Words can't describe how excited I am for fall and all of its delicious in-season produce. Just like clockwork, when October rolls around, it's out with the sun hats and strawberries, and in with the booties and butternut squash. You better believe that I was at Trader Joe's as soon as their fall products hit the shelves, stocking up on all things pumpkin. I, for one, take great joy in admiring a pumpkin on my doorstep while devouring a slice of pumpkin bread—don't you? It's safe to say that I indulged a bit this summer, so I'm on the hunt for recipes that taste and feel like fall, but are healthy and nourishing, too. Enter: this roundup of the best fall salad recipes on the internet. 
The best thing about fall salads is that they feature delicious salad bases like Brussels sprouts and quinoa, along with my favorite toppings like sweet potato and apples. I'm convinced that if you put every fall food from this list in a bowl, it would taste pretty good. You can't go wrong. Read on for 13 fall salad recipes that will bring the season into your kitchen. 
Vegetarian Fall Salad Recipes
Roasted Delicata Squash & Kale Salad
Why We Love It:  Sheela Prakash shared this recipe with us last year, and it has been a fall-favorite ever since. It's wholesome, colorful, and incredibly flavorful. This recipe has the perfect tangy dressing, is gluten-free and vegan, and has some yummy crunch components, too. Plus, it just looks pretty. 
Hero Ingredient: Delicata squash has been waiting all year to shine in this salad. 
Get the recipe here.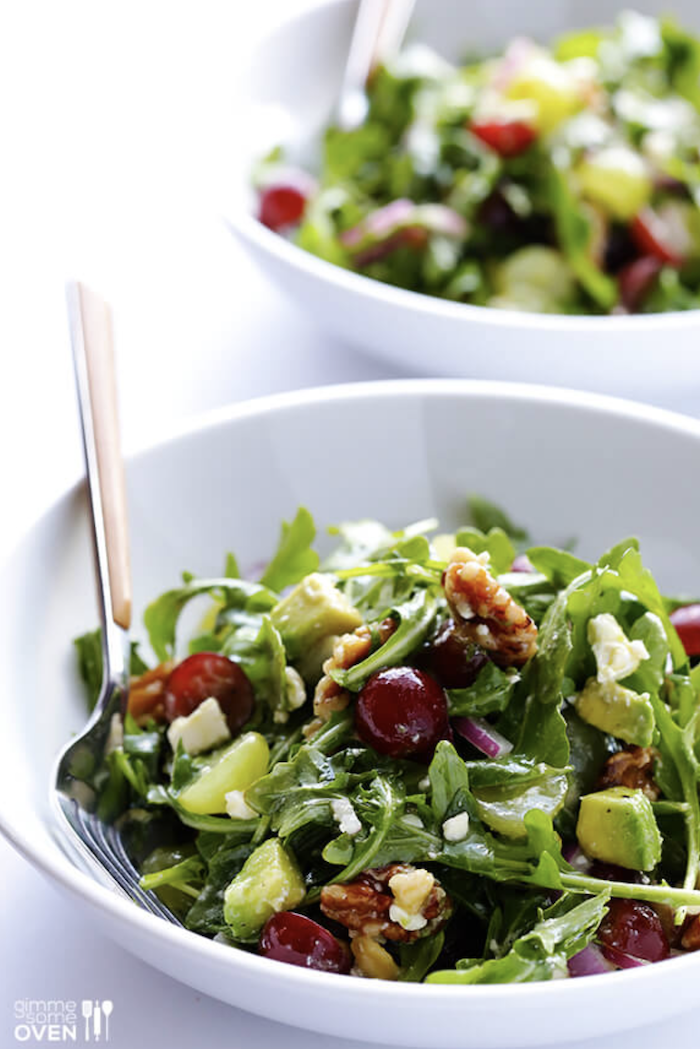 Grape, Avocado, and Arugula Salad from Gimme Some Oven
Why We Love It:  This recipe has everything I crave in a salad: something sweet, something crunchy, something smooth, and something tangy. In this salad, that means grapes, walnuts, avocado, and goat cheese. It's so delicious and utilizes arugula in its prime season and grapes as we near the end of their season. 
Hero Ingredient: Fresh arugula, showing off this season. 
Get the recipe here.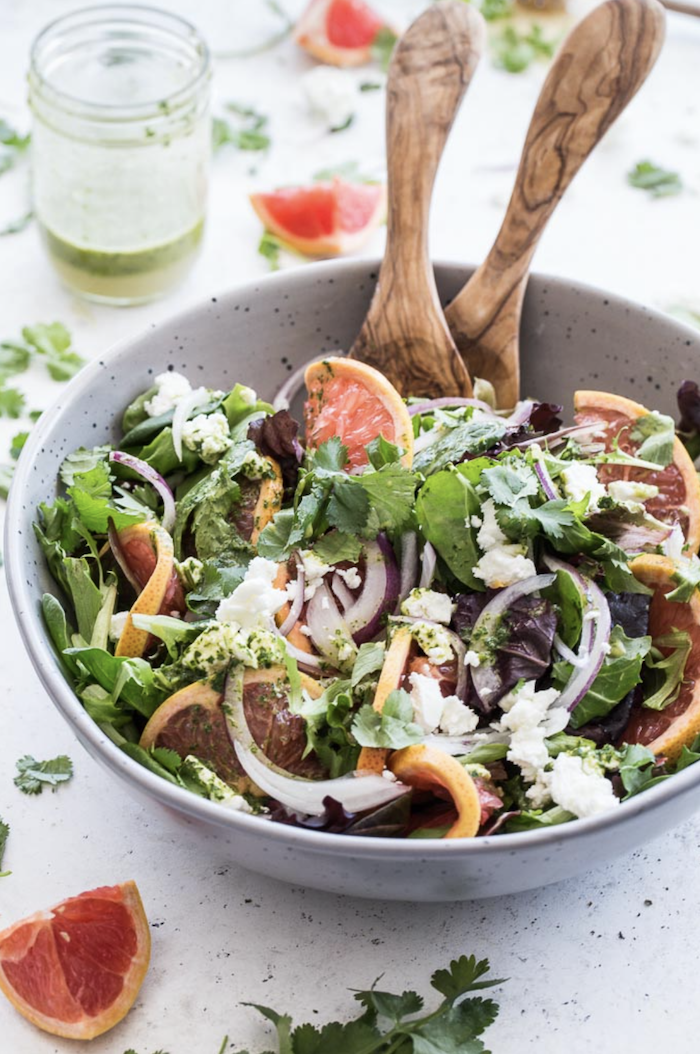 Grapefruit Salad With Cilantro and Goat Cheese from Crumb Top Baking
Why We Love It:  I spend all year waiting to eat a perfectly ripe grapefruit, and this salad recipe is one of my favorite ways to do it. The winter citrus pairs so well with the cilantro, and the goat cheese just gives it all a creamy, delicious texture. I love goat cheese, but the author also recommends using avocado instead to make the recipe dairy-free. Either way, this salad will be a new favorite. 
Hero Ingredient: Grapefruit, for that tangy flavor that can't be beat. 
Get the recipe here.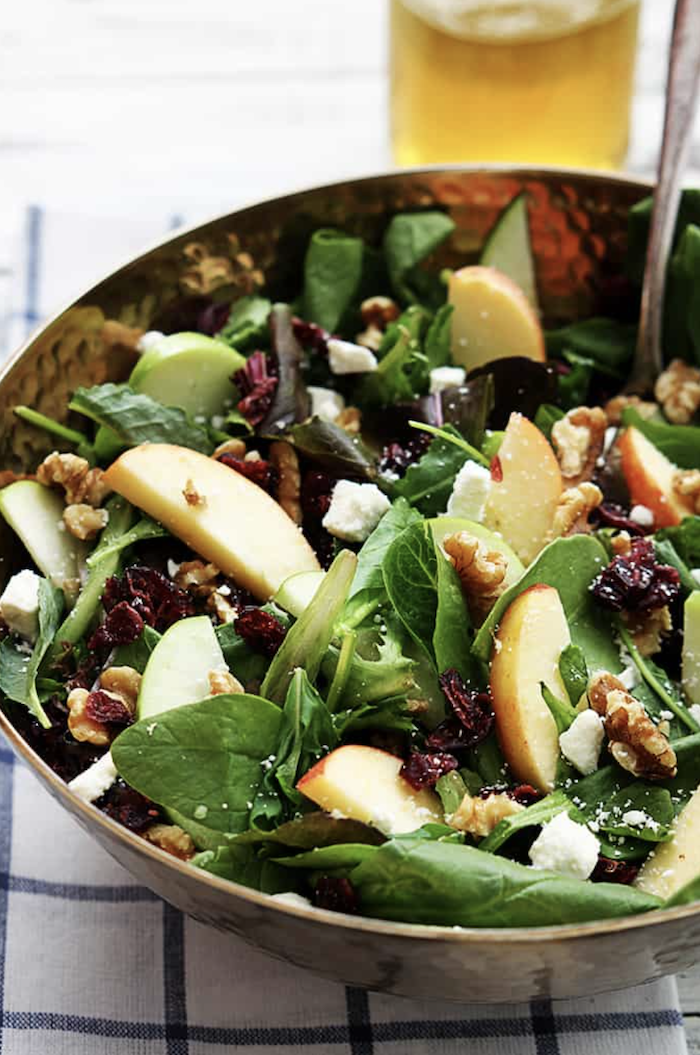 Apple Cranberry Walnut Salad from Creme de la Crumb
Why We Love It: Instead of going on and on about apples in salads, I'll spare you and talk about the flavor explosion that occurs when you get every ingredient in this salad in one bite. The apple, walnut, feta, and cranberry come together in a way that is fresh, delicious, and full of fall's superstars. This recipe is a perfect side dish, but with chicken, it can easily be the main course. 
Hero Ingredient: Red & ripe cranberries.  
Get the recipe here. 
Roasted Winter Vegetable Salad with Crispy Quinoa

Why We Love It: Gaby Dalkin of What's Gaby Cooking shared this beautiful veggie salad with us that's full of fall and winter's best. The red pepper flakes add the perfect amount of spice, the quinoa brings just the right amount of crunch, and the pinto beans give the salad some protein. It's super easy and will be a fall favorite for sure.
Hero Ingredient: Can't beat the quinoa.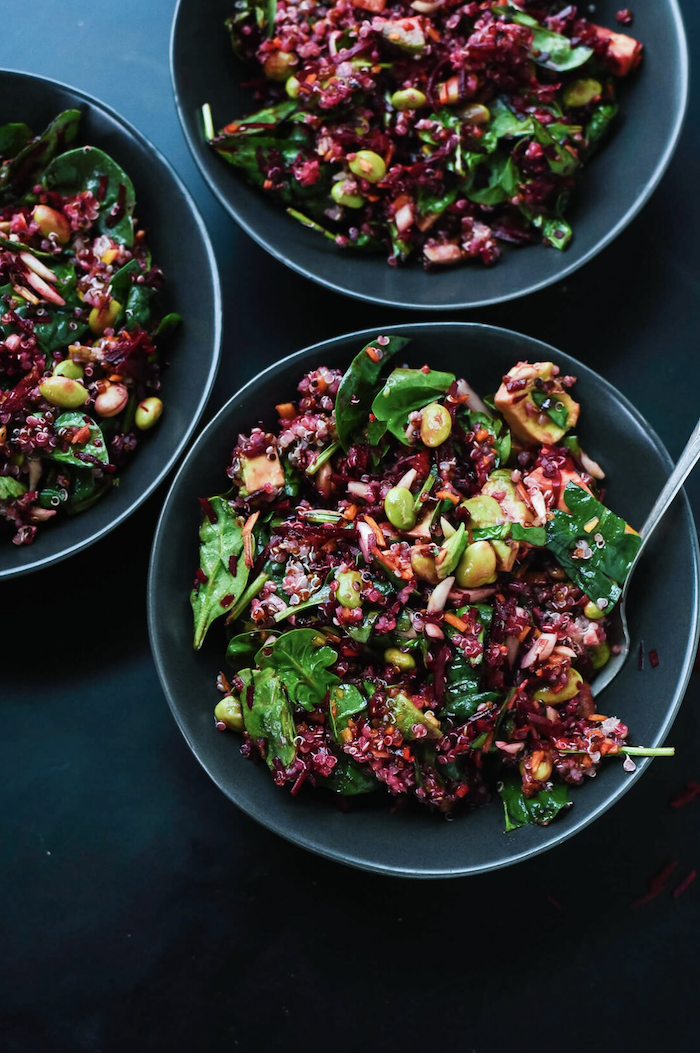 Colorful Beet Salad With Carrot, Quinoa & Spinach from Cookie + Kate
Why We Love It: Packed with superfoods and fall produce, this salad is as good as it looks (and it looks damn good). The beets and quinoa also make it more filling than your typical salad. It's both dairy and gluten-free, making it perfect to serve at all of your fall dinner parties. 
Hero Ingredient: Carrots are way more than rabbit food.  
Get the recipe here.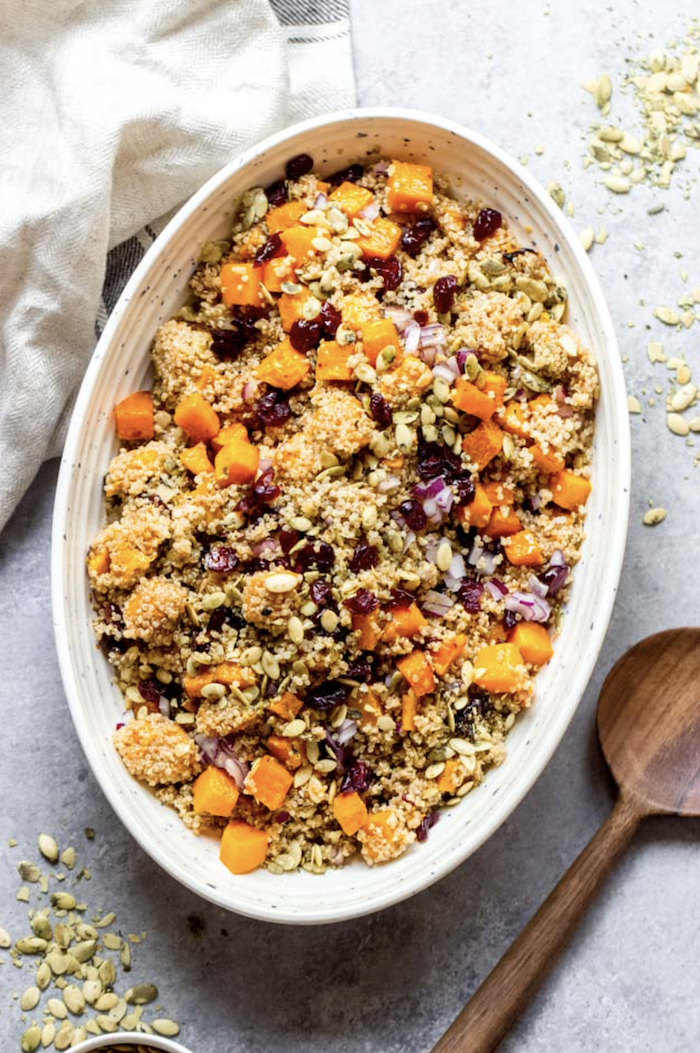 Butternut Squash and Cranberry Quinoa Salad from Little Broken
Why We Love It: This might be the fall salad recipe to end all fall salad recipes. It's also one of the most unique recipes on this list, as it doesn't include any sort of leafy green. However, it's a salad nonetheless, and one you should try immediately. The lack of greens makes it perfect for meal prep, too. Bonus: this recipe post includes great tips on how to cut butternut squash!
Hero Ingredient: The quinoa soaks up the dressing and makes this recipe a 10/10. 
Get the recipe here.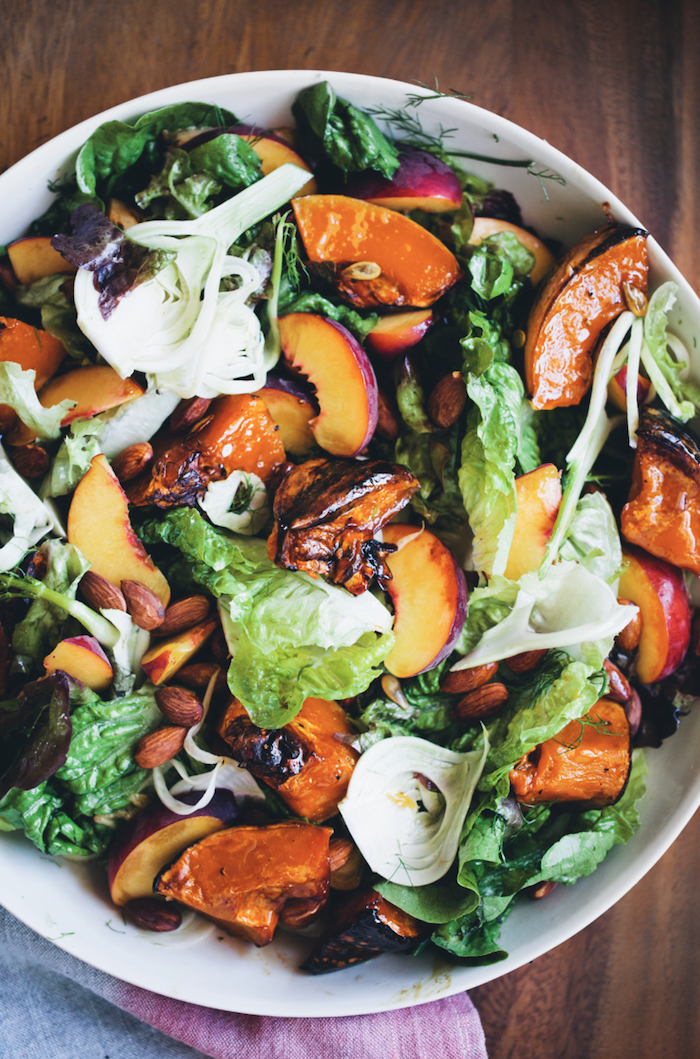 Roasted Pumpkin, Fennel & Peach Salad from Green Kitchen Stories
Why We Love It: If you're looking for a healthy way to eat pumpkin, this is it. I've never attempted to roast and eat a pumpkin, but just looking at this recipe makes me want to head to the store and try it today. Moreover, fennel and peach are one of my favorite flavor combinations, so this salad is just checking off all the boxes. 
Hero Ingredient: The pumpkin, for being more than a Jack-O'-Lantern this year. 
Get the recipe here.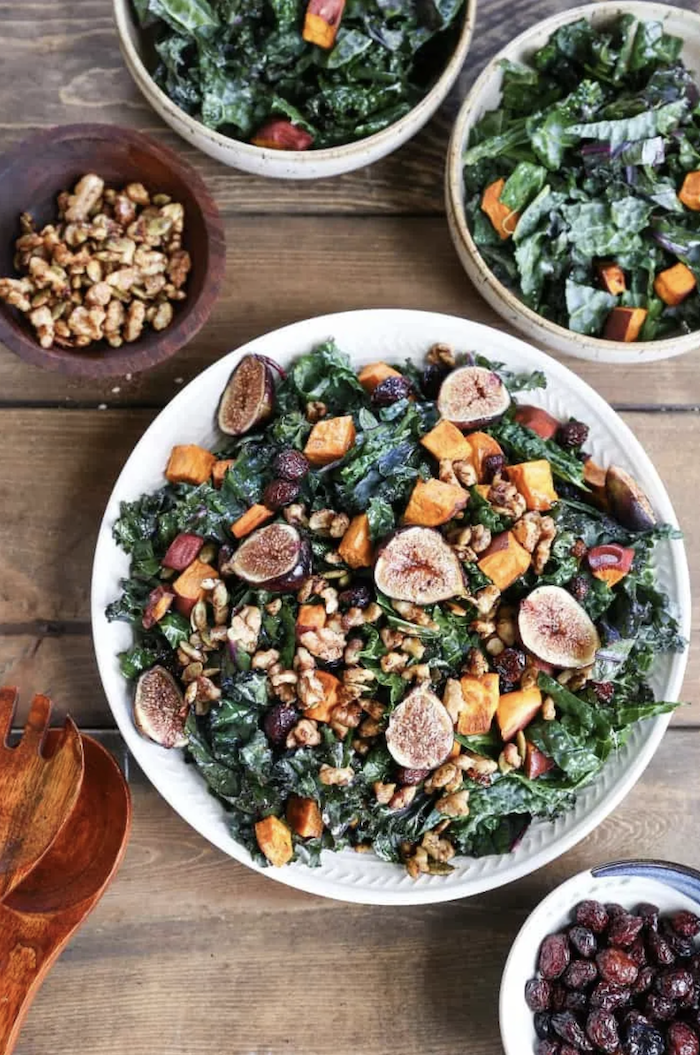 Roasted Sweet Potato and Fig Kale Salad With Maple-Cinnamon Cider Vinaigrette from The Roasted Root
Why We Love It: Sweet potato, fig, maple-cinnamon, oh my! This recipe title may be wordy, but no words can do this recipe justice. It's a superfood salad that let's fall produce do its thing. Sweet potatoes and figs give the salad some heartiness, while the cinnamon in the dressing is loaded with antioxidants. 
Hero Ingredient: Sweet, sweet potatoes.
Get the recipe here. 
Fall Salad Recipes With Meat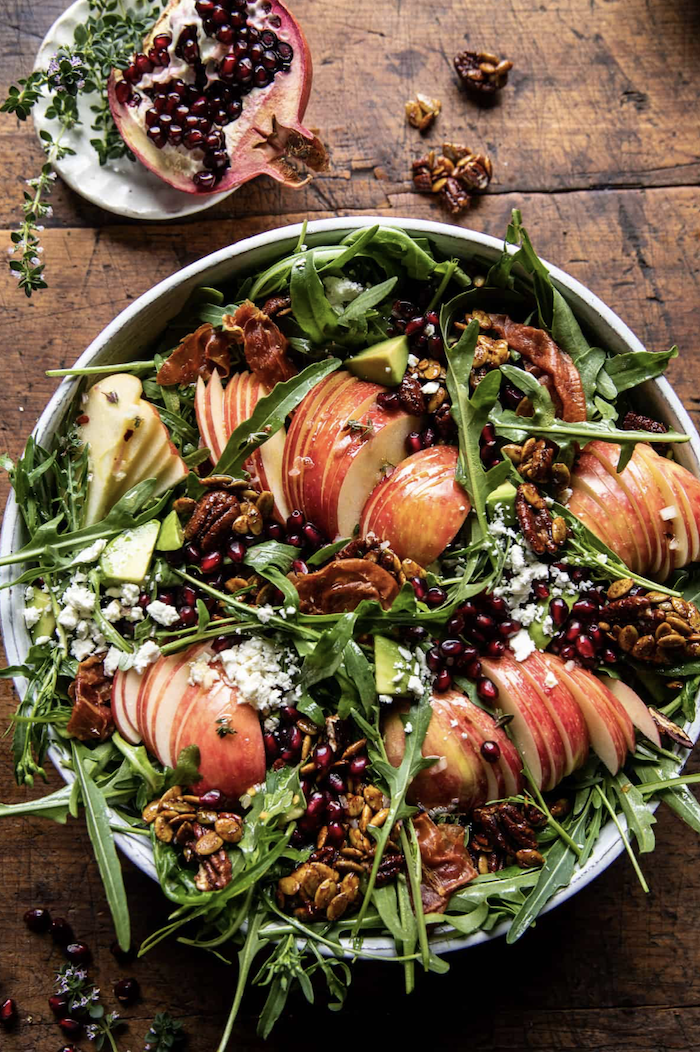 Autumn Harvest Honeycrisp Apple and Feta Salad from Half Baked Harvest
Why We Love It: Putting apples in a salad is one of the easiest ways to get to my heart. Throw in some candied nuts and crispy prosciutto and it's game over. This salad recipe actually makes me drool, and I get giddy thinking about how good it will taste while all of the ingredients are in season. Run, don't walk, to try this one out. 
Hero Ingredient: The juicy, crunchy, sweet honeycrisp apples.
Get the recipe here.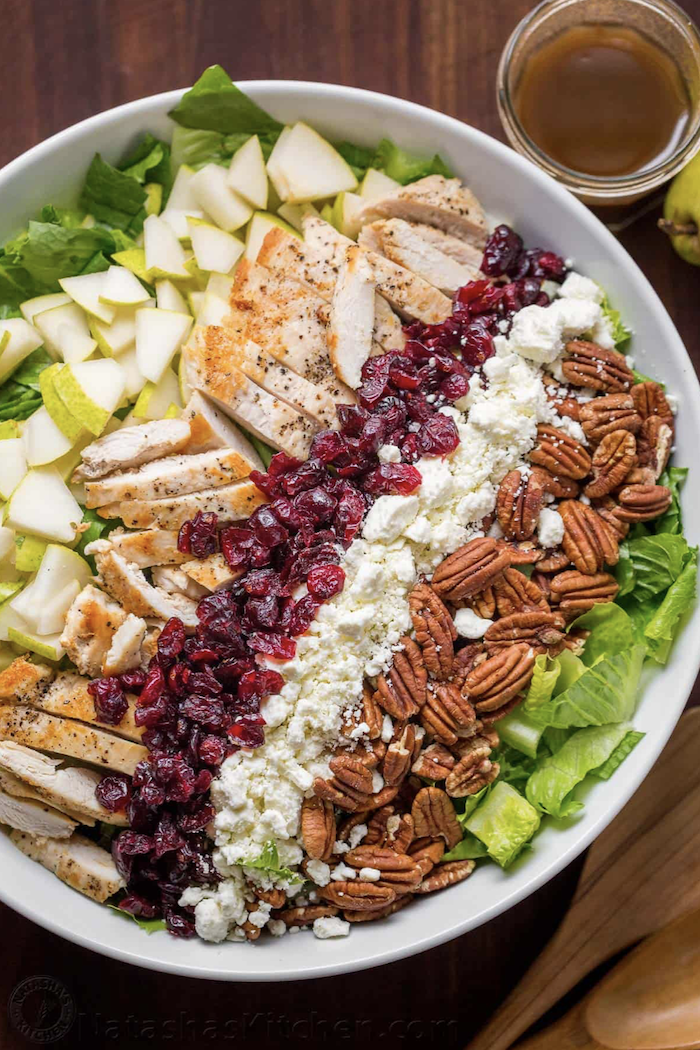 Autumn Chopped Chicken Salad from Natasha's Kitchen 
Why We Love It: Everyone loves a good chopped chicken salad, and this fall version is equally delicious. It uses pears and cranberries to give the traditional recipe a fall flare that is to die for. Just like any chopped salad, this recipe is easy to prep beforehand, and throw together right before serving. Bonus points for being gluten-free. 
Hero Ingredient: The pears add the ultimate crispiness and the perfect fruity touch. 
Get the recipe here.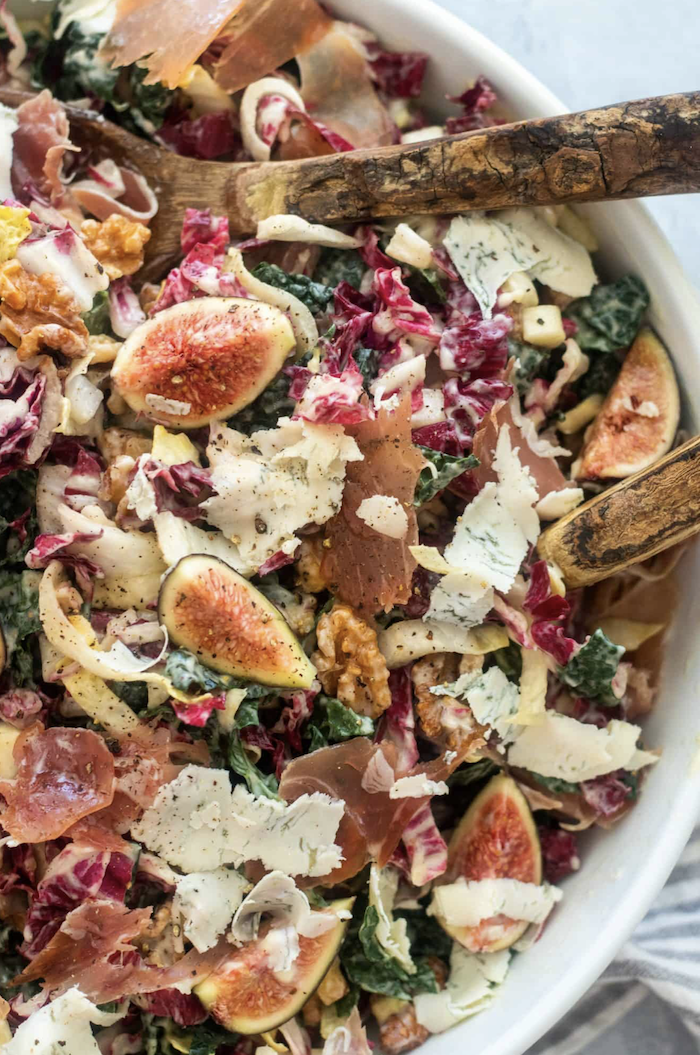 Kale Salad With Prosciutto and Figs from Giadzy
Why We Love It: If this salad was rated on a function of prep time and impressiveness, it would be off the charts. Your guests will think you spent hours making it, and clean their plates in no time. This recipe really spotlights the fresh figs and supplements the flavor with mascarpone cheese, walnuts, and prosciutto.  
Hero Ingredient: Figs for the win. 
Get the recipe here.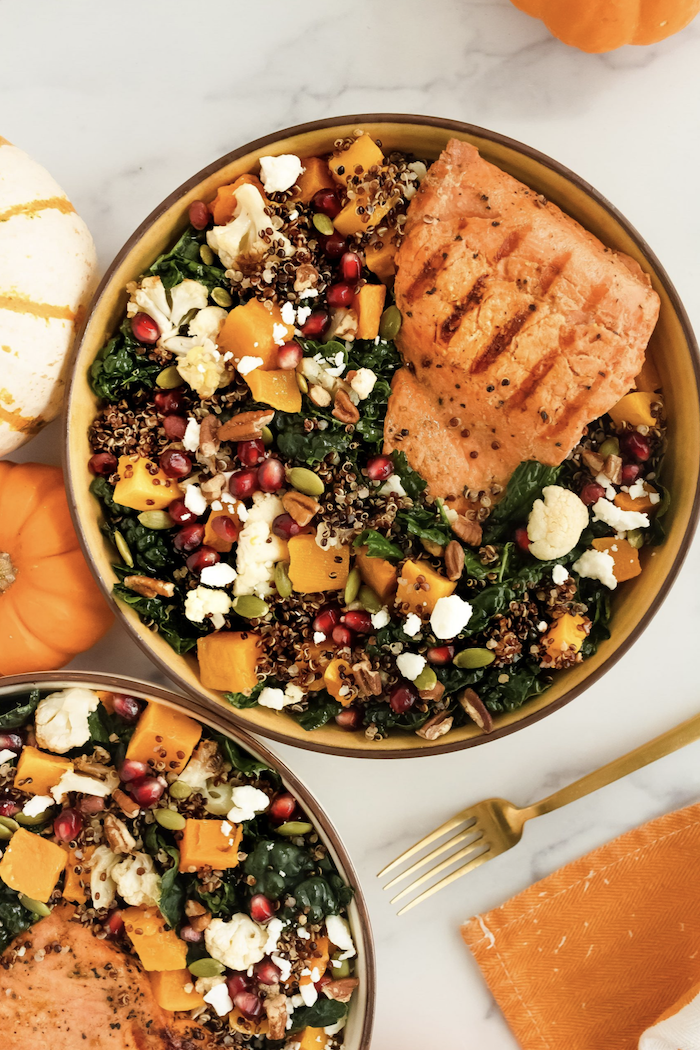 Autumn Salmon & Squash Bowl from Once Upon a Pumpkin
Why We Love It: Everything about this recipe, from the image to the ingredient list, just screams "fall." Not only does it feature a tasty honey mustard salmon, but it has tons of fall produce: butternut squash, quinoa, apples, pomegranate seeds, pumpkin seeds, and more. This is one of the fall salad recipes that will be on a weekly rotation at my house. 
Hero Ingredient: Pumpkin seeds, a creative way to use up the pumpkin 'guts' after carving.
Get the recipe here.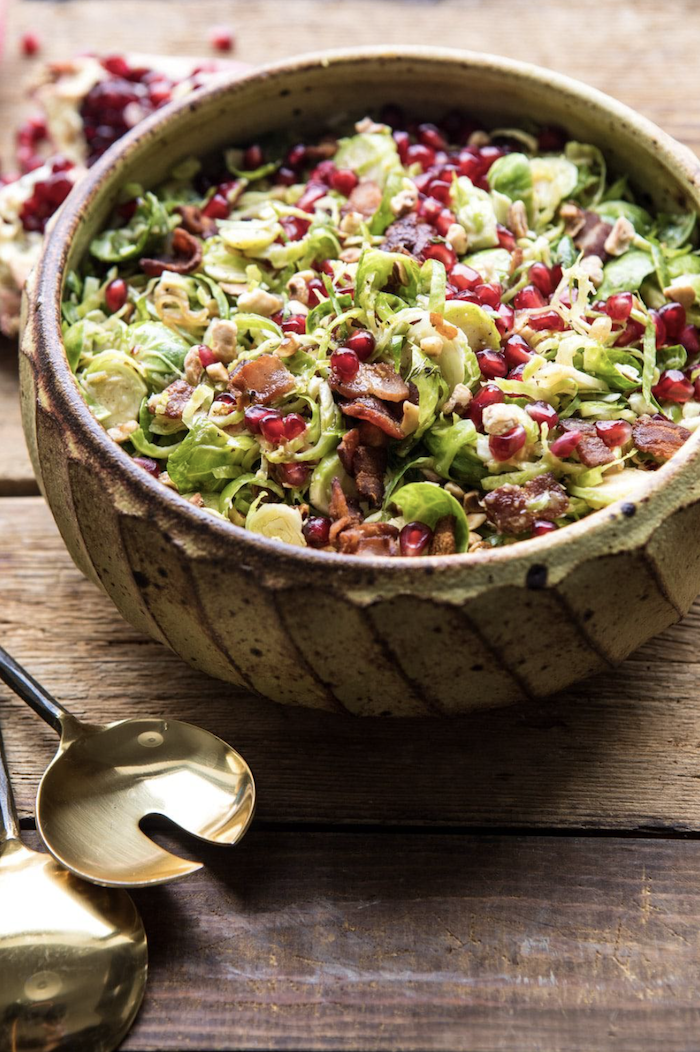 Shredded Brussels Sprouts Bacon Salad With Warm Cider Vinaigrette from Half Baked Harvest
Why We Love It: Rejoice, because Brussels sprouts are in season. Whether they are crispy in the air fryer or shredded in a salad, Brussels sprouts have to be one of my favorite fall veggies. This recipe in particular holds a special place in my heart, because of one unique aspect: it has a warm dressing. On first impression, I was so weirded out by this, but after I tried it, I totally got it. The heat cooks the Brussels sprouts just a tiny bit, taking out some of their bitterness, and sending this recipe over the edge. 
Hero Ingredient: Brussels sprouts, the underdog of vegetables. 
Get the recipe here.